April 14, 2017 San Francisco Opera House
Made for SF Ballet
Program 7, this year's lively innovative choreographic offering, includes works by Artistic Director Helgi Tomasson, an older commission (2008) by now famous Christopher Wheeldon, and a new work by a current member of the corps de ballet, Miles Thatcher. All three take their inspiration from the musical score, yet they offer varied choreographic points of view.
Thatcher's work is most current in his use of thematic material. He evokes community themes, bringing dancers together in confronting gestures yet acknowledging that confrontation brings enmity as well as comfort. These themes lead to more extended movements of the arms and torso beyond the conventional ballet vocabulary. Sometimes the dancers hug. It recalls, to this reviewer, lost moments of the days of "be-ins" wherein groups sought affection from one another. Certainly it is current again.
Yet some of the confrontation is unrealized. In Julia Rowe and Jaime Garcia Castilla's opening duet there is what appears to be arm wrestling and rejection. That action quickly disappears as Thatcher, as so many of today's choreographers do, resolves the duet into spectacular lifts in which the women are thrown, held up high, moved to the ground and are generally 'used.' The piece continues with such top energy throughout, although the hugs and group collapses to the ground modify the energy.
The score by Michael Hyman is rhythmically monotonous ins some movements and quietly dull at other times. It is movie music, not always pleasant to the ear, but supplies Thatcher's base for exploration. The lighting design, by Jim French is vivid and sometimes hard on the eyes. But all in all Thatcher has brought a vividness to SF Ballet which is contemporary and lively. And then, he danced in the next piece on the program! But, Why the title? Where is the 'Ghost in the Machine?"
Wheeldon's "Within the Golden Hour" is, by contrast, very sophisticated. Ezio Bosso and Antonia Vivaldi provide vibrant music for the various duets. Thatcher joins Sasha De Sola; Dores André dances with Carlo Di Lanno and Frances Chung with Daniel Deivson-Oliveira. They are joined by eight members of the corps and the whole proceeds with classic excitement. The SF Ballet members get better at every performance.
For the opening number Tomasson chose his own "Trio" to music by Tchaikovsky. Since ballerina Lorena Feijoo is leaving the company, she danced the first movement with Jaime Garcia Castilla with great brio and brilliance. She flirted with the audience and they cheered excitedly. Sarah Ban Patten, Tiit Helimets and Aaron Robison performed the exquisitely tender center 'trio' that gives the work its name and Maria Kochetkova and Angelo Greco exploded expertly in the third movement with the ensemble. This is the best Tomasson work he has made for the company.
SF Ballet completes the season with "Cinderella" through May 7. It has been a lively season complete with superb dancing from the company.
Thatcher's "Ghost in the Machine" Program 7 SF Ballet
Photo: Erik Tomasson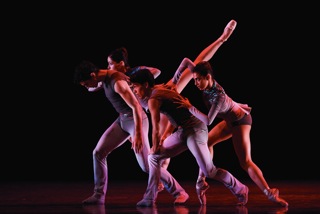 Joanna G Harris, PhD
joannagharris@lmi.net
2714 woolsey st berkeley, ca 94705
510. 205-6065
www. BeyondIsadora. com