Friday, April 28, 2017 SF Opera House
April 28-May 7, 2019
"Cinderella" On Stage
San Francisco Ballet's concluding production of the 2017 season is a remounting of Christopher Wheeldon's "Cinderella," last seen here in SF in 2013. It is not the 'fairy godmother' Cinderella but it refers to some aspects of the original Grimm fairy tale. Wheeldon makes much of the tree burial site of Cinderella's mother. The birds who assist Cinderella in the original story become "Fates". The production is elaborate and complex in its stage effects. It adds two prologues concerning the early years of both Cinderella and the Prince. What saves this current performance was the brilliant dancing of Frances Chung as Cinderella, Joseph Walsh as the Prince and Taras Domitro as the Prince's friend Benjamin. The choreography is dull;  the dancing great.
Wheeldon's efforts at making the step-sisters (Sasha De Sola, Ellen Rose Hummel
) and the step-mother (Jennifer Stahl) into funny characters often falls flat, since the humor dissolves into 'kick in the pants' action. The step-mother, drunk at the ball, is not funny at all.
But the lovely lyricism that Chung brings to the tile roll is fascinating. She is a fine actress and a brilliant dancer. She brings real but gentle projection to each scene. Walsh matches her, partnering with chivalrous care even through the complex lifts Wheeldon provides. Taras Domitro as the Prince's friend brings the real comic element to the show. He poses as the Prince so that Cinderella's character is tested and is a lively jester throughout.
The four "Fates" provide the magic we usually attribute to the Fairy Godmother. (Actually none appears in the original story. The tree and the birds provide the dresses for the ball.)  Daniel Deivson-Oliveira, Francisco Mungumba, Mingxuan Wand and Wei Wang as the "Fates" are masked figures who bring about Cinderella's release.
The scenic, costume and lighting personnel deserve huge credit and applause for the elements that dominant this production. Julian Crouch is the Scenic and costume designer; Lighting, Natasha Katz, Production design, Daniel Brodies and scenic associate, Frank McCullash. Basil Twist creates a special sequence for the amazing effects to produce a life-like tree and a magic carriage. It is worth of applause and admiration. But, alas, the effects often eclipse the gorgeous dancing.
Martin West and the orchestra provided fine accompaniment for the familiar Prokofiev score. SF Ballet's "Cinderella" is a visual delight.
Frances Chung and Joseph Walsh in "Cinderella"
Photo: Erik Tomasson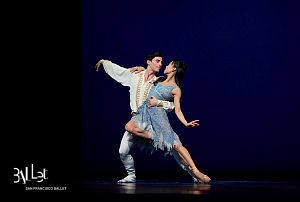 Joanna G Harris, PhD
joannagharris@lmi.net
2714 woolsey st berkeley, ca 94705
510. 205-6065
www.BeyondIsadora.com