Le Temple de la Gloire – (The Temple of Glory)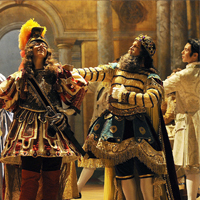 New York Baroque Ensemble – Photo by David Taylor
Opera in three acts with a prologue.
This reviewer, overwhelmed as we were by the enormous effort and artistry of this historic production, will concentrate on the New York Baroque Dance Company. Although the event was marked by gorgeous solo voices (some from France), a well-tuned orchestra familiar to Bay Area devotees of the Baroque, supported by the 25 member Philharmonia Chorale and set with amazing design and costumes, it was the baroque dancing, choreographed by Catherine Turocy, that left the greatest impression. Performances of baroque dance are rare indeed!
Baroque dance, a style practiced in the court ballrooms (particularly in France) was the forerunner of the classical ballet style we generally see in today's ballet companies. It is gentler in its gestures, less overt in style and steps. Yet the graceful turn-out is there, the pointed toe, small jetés and multiple turns. There is also a reference to contra dance, as adapted from country-dances. Arm gestures are careful shaped and sculpted.
The eight Baroque Company dancers took many roles in the opera. Turocy has not only presented that style of dance for courtiers (those who dance before Apollo) but also for shepherds and shepherdesses, muses, bacchantes, and satyrs. In the finale, children, from the Berkeley Ballet School dance around a maypole! The eight dancers (often in masks) change costumes several times during this three-hour masterpiece of music, staging and dance.
Caroline Copeland performed as soloist as a shepherdess with the group. She also appears as a dance 'muse' with Carly Fox Horton, Alexis Silver and Maggi Sweeny Smith. Olsi Gjeci is a soloist 'hero,' accompanied by Brynt Beitman and Andrew Trego as other heroes. In the second act, the heroes reappear but the others are transformed as bacchantes, satyrs, a faun, a lumberjack and most astonishing, an ostrich! To add to the spectacular dance versatility, Andrew Trego dances as Mars, with full feathered head gear and Meggi Sweeney Smith dances Venus in a huge gown complete with panniers. Ting and Copeland continue their roles as shepherd and shepherdess and the others all are 'court' dancers. The finale thus is transformed in the characteristic French 18th century ballroom. It is all an amazing accomplishment, beautifully staged and performed.
Background and Notes on the Opera.
Nicholas McGegan, Philharmonia Baroque Orchestra & Chorale's (PBO) Music Director, leads PBO's first-ever fully staged opera in a world-premiere production of Jean-Philippe Rameau's original 1745 version of "Le Temple de la Gloire" (The Temple of Glory), with a libretto by Voltaire, April 28, 2017 at Cal Performances in Zellerbach Hall on the UC Berkeley campus.
This modern-day premiere was created in partnership with Cal Performances and Le Centre de Musique Baroque de Versailles. An international cast of soloists and the New York Baroque Dance Company joined PBO for this lavish period production
The Jean-Philippe Rameau's "Le Temple de la Gloire" was an extraordinary original source manuscript score and libretto found in the collection of UC Berkeley's Jean Gray Hargrove Music. This project has been a dream of Nicholas McGegan's since he first learned of the existence of the original manuscript score and libretto. McGegan hoped to one day mount a major production of the entire opera. He is quoted as saying…
"Being able, finally, to be part of a fully staged production of "Le Temple de la Gloire" is the fulfillment of a dream for me. Nearly 25 years ago, Philharmonia recorded some of the dance music from this magnificent score and now, after many years and several attempts to see it staged. Rameau made it to please both the King, who was unhappy with the political undertones of the original 1745 version, and Parisian tastes at the time. The public wasn't accustomed to experiencing an allegorical opera without a love story. Voltaire originally intended the work to be a philosophical reform of opera: an allegory centered on the idea of the Temple of Glory, and a grandiose spectacle with moral and political overtones."
It is terrific that Philharmonia has collaborated with several other organizations to put on this production. Cal Performances is producing the whole event on campus; Le Centre de Musique Baroque de Versailles and its dynamic leader Benoît Dratwicki have provided the French members of the cast; the New York Baroque Dance Company is performing the ballets. Julien Dubruque has prepared a fine edition of the score. Catherine Turocy is staging and choreographing the work and Scott Blake is the set designer. Additionally, lighting designer Pierre Dupouey from Parisl created Baroque-inspired lighting to bring the "Le Temple de la Gloire" to life while preeminent costume designer Marie Anne Chiment made elaborate costumes designed to replicate those worn during the French Baroque period. Audiences were amazed and delighted with to the full Baroque effect with all the drama and lavish ornamentation that one might expect from this sumptuous French Baroque opera score.
Credits:
Nicholas McGegan, conductor; 
Gabrielle Philiponet, soprano; 
Chantal Santon-Jeffery, soprano; 
Camille Ortiz-Lafont, soprano
; Artavazd Sargsyan, haute-contre; 
Aaron Sheehan, haute-contre; 
Philippe-Nicolas Martin, baritone; 
Marc Labonnette, baritone; 
Philharmonia Baroque Orchestra & Chorale, New York Baroque Dance Company, 
Catherine Turocy, director; 
Philharmonia Chorale,
 Bruce Lamott, director; Catherine Turocy, stage director and choreographer;
 Scott Blake, set designer
; Marie Anne Chiment, costume designer;
 Pierre Dupouey, lighting designer.
joannagharris@lmi.net
2714 woolsey st berkeley, ca 94705
510. 205-6065
www. BeyondIsadora. com