May 10-12, 2017 Cal Performances UC Berkeley
Through the body/mind of The Moth
In the play, "A Streetcar Named Desire," the author, Tennessee Williams, early on, described the leading character, Blanche, as a "moth," attracted to light but very easily destroyed. The Scottish Ballet's production uses that image throughout the performance, beginning and ending with Blanche reaching for the light. Choreographer Annabelle Lopez Ochoa had added the 'backstory' to the ballet:  "Blanche's early years at home in Belle Reve and the circumstances and death of her young husband. These events haunt her life continually, even after she enters her sister's house." The play usually begins there: in this ballet they form the early scene of Act I. Then, faced with her sister's house and husband, the circumstance of her despondency and alcohol dependence, and the rape she suffers, takes Blanche to the madness that follows. All these are dramatically danced.
Eve Mutso, the leading ballerina for the company, is a dramatic virtuoso.
Except for the early scene (the young Blanche is danced by Aisling Brangan) Mutso is able to accomplish the descent into madness retaining the fragility of 'the moth.' She is given five or six scenes, each demanding both strong ballet technique and the dramatic ability to project this complex character.
Joining her as her sister Stella is Sophie Laplane, Christopher Harrison as Stella's husband Stanley and the fine corps of dancers who are the community. An early duet between Victor Zarello (Blanche's husband) and Constant Vigler (his lover) is very powerful. The returning dance quotes from their scene and the husband's death are recalled and repeated throughout the ballet. They form a strong part of Blanche's painful memories.
Peter Salem, composer, has written a score that gives each scene a unique character, but does not necessarily become a cohesive whole. As each scene brings varying events in New Orleans, a bowling alley, a poker game, the revelation of Blanche's past, her courtship with a gentleman, etc., the music emphasized the dramatic situation. This and the many roles created for the corps, crossing and re-crossing the stage, moving boxes, echoing the action, sometimes makes for lack of cohesion for the ballet as a whole. As a work, the whole might be tightened and become more pointed for the central drama.
The stage direction is by Nancy Meckle, set and costume design by Niki Turner, lighting by Time Mitchell. It is a complex yet fascinating work.
The Scottish Ballet: corps in " A Streetcar Named Desire"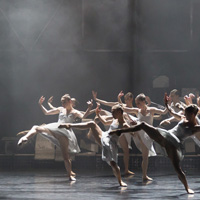 Joanna G Harris, PhD
joannagharris@lmi.net
2714 woolsey st berkeley, ca 94705
510. 205-6065
www. BeyondIsadora. com