May 25-June 3, 2017 (Thurs/Fri evenings: 8:30 & 9:30 PM)
Hastings Law College: The Wall, Golden Gate Avenue SF
On the Wall
It was a chilly night in San Francisco. The wind blew cold. The choreographer thanked the audience wearing a winter coat. Nevertheless, the six dancers of Flyaway Productions climbed down the 85-foot wall at Hastings Law College, accomplishing the superhuman feats that define this group's skill.
At first we see one dancer at a time, descending from above. Each presents the swinging, twisting, summersaulting skills that astonish us, safe below.
One text that accompanies a dancer concerns the conflicts of abortion.
Then a duet occurs. At first, it is a lonely poignant event, during which at the solo dancer curls and closes in. She is joined by a companion and the energy changes to one of ease and extension. At the finale all six dancers move across the wall in a long line of swinging and release. (Of course all are rigged and use the rigging as support throughout). The events last 30 minutes.
Jo Kreiter, the artistic director of Flyaway conceived this work as a response to various legal and social occasions through which women are "doubted, de-valued and dismissed." The dancers of Flyaway are champions, demonstrating the heroic abilities of women.
The dancers are: Bianca Cabrera, Sonsherre Giles, MaryStarr Hope, Yayoi Kambara, Megan Lowe and Sonya Smith. Other credits include: Rigging Design by Karl Gillick. The extraordinary lighting is by Matthew Antaky. Projection design, Ian Winters, costume, Jamielyn Duggan, Stage Manager, Pat Mahoney, Production manager Kathy Rose, Music, FR333 feat Astu, and Photo Journalism by Lynn Johnson. Bravo to all!
Once again Jo Kreiter and Flyaway Productions has given SF audiences an amazing experience. For 21 years they have danced on walls and stages, inside and out, in out-of-the-way places and close at hand. Kreiter tells me that next year the company will be presented by Cal Performances! Make sure you're there, even if you need coats, hats and gloves.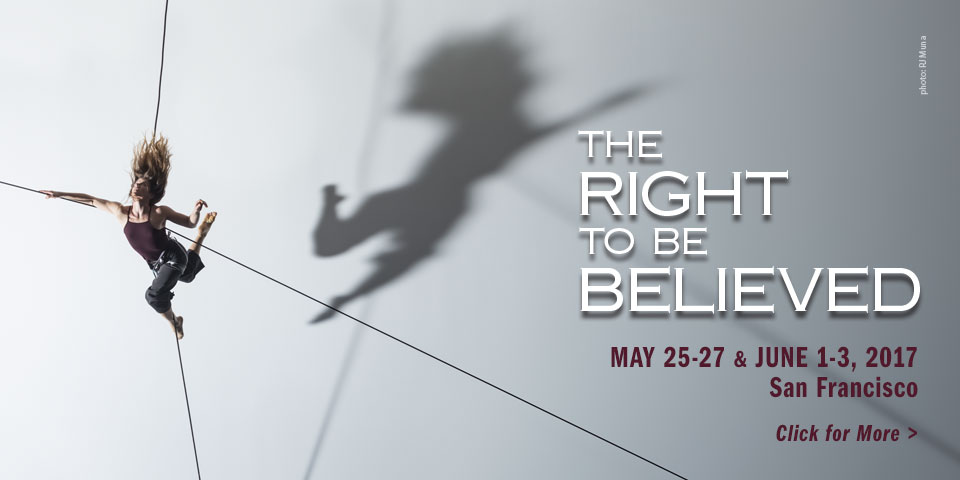 Joanna G Harris, PhD
joannagharris@lmi.net
2714 woolsey st berkeley, ca 94705
510. 205-6065
www. BeyondIsadora. com