A Midsummer Night's Dream and Consort June 1-4, 2017
Odell Johnson Performing Arts Center at Laney College, Oakland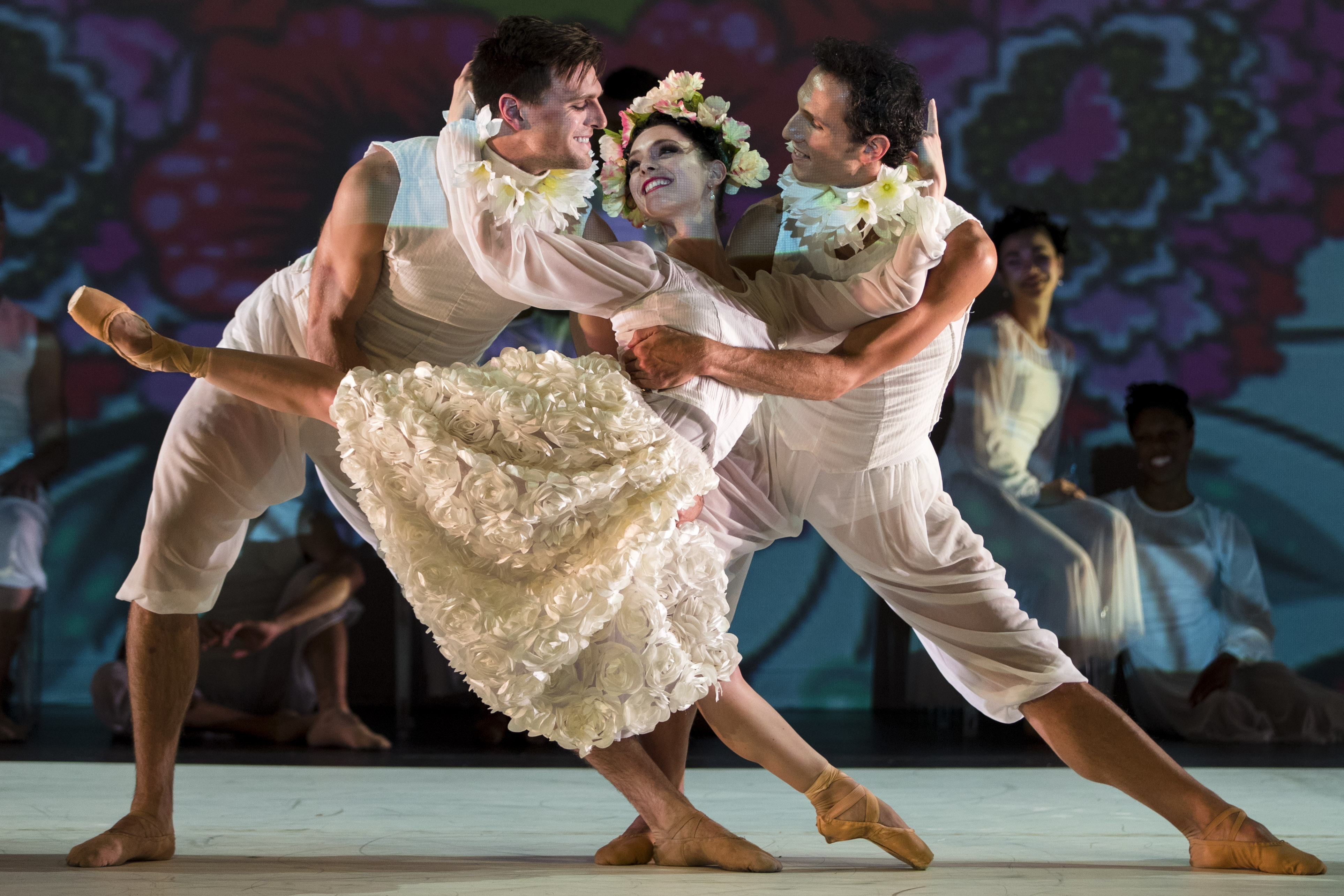 Scott McMahan, Ramona Kelley, Domenico Luciano of Oakland Ballet Company in Graham Lustig's "Consort"  –  Photo by John Hefti
Graham Lustig has returned to the Oakland Ballet, now as full time artistic director. In previous years Lustig has staged "The Nutcracker" at Christmas and, this past year, "Luna Mexicano" to "Dia de los Muertos" at Halloween. Now he brings us two enchanting events, both inspired by Shakespeare and the music, art and poetry of that time. His program, Discover Dance, reaches children in over a dozen schools. The children share in performance, as in this current one, where they are charmingly used as part of the company cast of "A Midsummer Night's Dream."
"Consort," a work in seven scenes, some accompanied by the excellent countertenor Dan Cromeenes and Lutenist Dominic Schaner, presented sonnets (some by Compton; others by Shakespeare) to promote "consort." The verb is defined as "to harmonize, fraternize or associate with". The dancers accomplish this in various groups, duets and trios, sometimes speaking the words themselves, more often to the lovely music. Dressed in charming, mostly white outfits (costumes by Christopher Dunn) the women flirt, cajole, reject and adapt admirably to the young consorts who attract them. There are lovely scenes and lively dancing. Many of the duets and group work is characterized by complex lifts and falls, which, although heightening the strength and athleticism of the dancers, is sometimes a bit "out of style" with the tender lyricism of the poetry and music. Lustig has found marvelous Elizabethan images to project on the backdrop.
"A Midsummer Night's  Dream" has been transformed into ballet by many choreographers, Nijinska, Balanchine, Liam Scarlett and no doubt others. Here, Lustig has brought the story line to SF. The "changeling' boy is a local kid who is sent to bed. The "dream" is his dream! The lovely fairies appear in gorgeous colors; there are tiny fairies and hobgoblins as well as Shakespeare 's cast; the lovers, Hermia, Lysander, Helena, Demetrius and of course Titania and Oberon, Puck and the Mechanics featuring Calvin Thomas the funny transformed Bottom. The scenes unfold quickly and the dancing is delightful. Ramona Kelley as Titania and Domenico Luciano as Oberon dominate the drama with their complex acting and dance roles, illustrating and expanding the couple's tension and exuberant resolution.  Theirs is a gorgeous final pas de duex, Kelley, small but strong and skilled can sometimes dominate the tall Luciano who handles her with fine aplomb.
The lovers, Lydia McRae, Scott McMahan, Alysia Chang and Vincent Chavez add charm to the various quarrels and the happy resolutions. Felipe Leon as Puck is amusing and clever as Oberon's 'henchman" as is Calvin Thomas as Bottom. The children in their various accompanying roles are delightful.
It is a real gift to Oakland to have Lustig's talent and company with us.  The city may still have the Warriors and other teams, but the Oakland Ballet should be high on the list as an East Bay treasure.
Joanna G Harris, PhD
joannagharris@lmi.net
2714 woolsey st berkeley, ca 94705
510. 205-6065
www. BeyondIsadora. com