ODC at Cal Performances
"boulders and bones "
October 11, 2017 Zellerbach Auditorium
Rob Ballis, Associate Director, Cal Performances, Brenda Way and KT Nelson, choreographers, introduced "boulders and bones" with a pre-curtain talk, describing 'the shifting light, changing landscape, and the raw natural materials of an Andy Goldsworthy installation." With rustling audiences and rasping mikes, the conversation did not become clear until we saw the film clips of Goldsworthy rocky cairn in Northern California as part of the performance. Since the images go by quickly, we would have enjoyed a clear picture of the sculptures cairn during the discussion.
Way and Nelson, in program notes, say "the impermanence of dance itself makes a fitting metaphor for the temporal changes and evolving dynamic extremes of Northern California." The dance proceeds with many entrances and exits by the eleven member ODC company, although they rarely appear on stage altogether. The dance phrases consist of running assaults during which one or another or several dances are lifted, swung, helped, carried, dropped and rolled. There is much floor activity.
During these various confrontational activities we are able to see first, the Galsworthy team construction the rock formation cairn, then still projections of the completed work, then the cellist/composer Zoe Keating framed within the projections as she plays and the dance proceeds. There is a remarkable solo for Josie G. Sadan whose skill dominates the other dancers in detail and focus. Dressed in red (and sometimes just red underclothes) she appears to be the focus of both duet and group attention.
All her movement is technically brilliant; somehow it does not make a great dramatic impact.
Today's modern dance (and even ballet's) vocabulary seems to consist of sweeping locomotor activities (running, falling, leaping) in mass groups, punctuated by stupendous lifts in which the lifted person is carried and passed on to another lifter. It is very exciting activity but endless repetitions fail to 'add' up to meaningful expression. For this reviewer, a dance event, however staged, must give the audience some clear spatial focus so that dance images and events can become clear.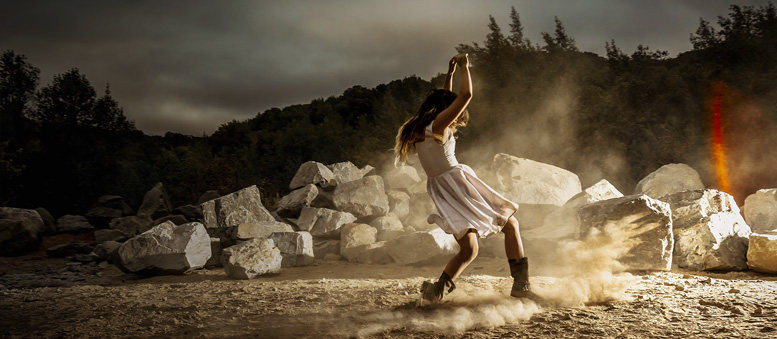 "boulders and bones" is a thoughtful collaboration but it does not make a strong impact as a 'total work.' Rhythm, space, groupings and soloists could come into stronger focus and more unified ensemble to make this dance more meaningful.
Besides Sadan, the dancers are: Jeremy Smith, Natasha Adorelee Johnson, Brandon Freeman, Jeremy Bannon-Neches, Tegan Schwab, Daniel Santos, Rachel First, Lani Yamanaka, James Gilmore and Mia J. Chong (apprentice). Alexander Nichols did the lighting. ODC will bring the production to BAM in the near future.
Joanna G. Harris
ODC /Dance in "bounders and bones" (Josie G. Sadan) solo figure