"From Shadows" A Ballet about Homelessness
Marika Brussel and Company
ODC, SF October 12/13, 2017
Ballet Narrative
Classical ballet choreographers usually devote their efforts to fantasy or fiction having a romantic or romanticized through line. Here, Brussel has taken on a story about homelessness, a very current and prevalent topic.
It works when the dance gestures move away from the classic vocabulary, i.e., arabesques, developées, pas de bourée and accompanying arm movements. But dancers in toe shoes with that vocabulary resound from other times and intrude on this contemporary story.
The work starts with a family story. "From Shadows," the father figure becomes subject to Addiction, portrayed very convincingly by Sharon Kung. Unlike the mother figure, Alexandra FitzGibbon, she wears no toe shoes, or at most does not use them as expressive gesture. The young child is danced by Ruby Rosenquist; the father by Calvin Thomas. King and Thomas continue as characters in the homeless campsite that follow in the second act.
Nina Pearlman, also in toe shoes, portrays the child as adult, searching for her father, who is ultimately found and saved. In the course of this adventure we meet the homeless: Emily Kerr, Theresa Knudson, Jackie McConnell, Nick Wagner, Allie Papazian and Emily Hansel. Some of these are encumbered by the shoes; others dance with more realistic outfits.
Wagner pushes a grocery cart filled with junk; he is able to fold a fellow dancer into it! That action and other simply pas de deux become convincing. King and Thomas continue to be the most dramatic, interesting couple as they crawl through the homeless scene.
Brussel has shown real concern here. Her program, published as the sheet "Street" is very clever as is the information on Homelessness in San Francisco in that paper. But until the movement vocabulary fits the time, place and situation of the story, "Shadows" does not really work as a contemporary narrative.
Joanna G. Harris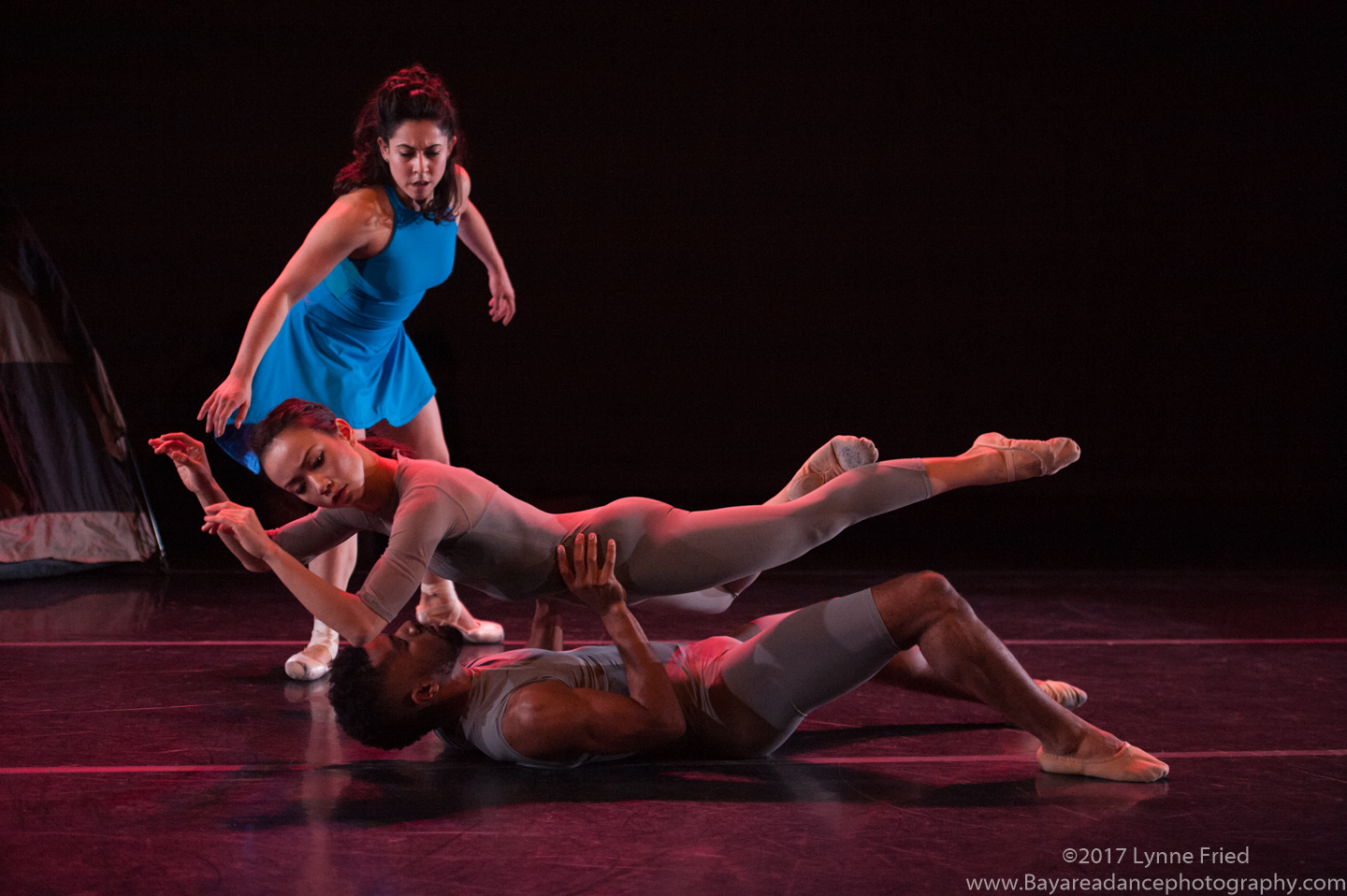 "From Shadows" choreography by Marika Brussel
From left: Nina Pearlman, (on floor) Sharon Kung, Calvin Thomas
Photo credit: Lynne Fried