Two Dance Events:
Smith/Wymore "Disappearing Acts" ODC, SF: Nov. 30, 2017
Scott Wells: "Was that good for you" Dance Mission Theater, Dec. 1, 2017
Dance events these days can take almost any form imaginable. Dancers talk, sing, play instruments, move with, on, off and sometimes around one another, show video, use cell phones and generally try to 'amuse' or involve the audience. Sometimes real elements of choreography, design, dynamics, thematic material and rhythms are employed, as were evidenced in Scott Wells' work. Often the performance is a series of well meaning but ineffective theatrical events, as demonstrated in the Smith/Wymore show.
Program notes for "Disappearing Acts" site that its intention was "to create a piece that provokes the audience to consider what is happening to ourselves as our machines become more intelligent", and that, "the computer system has fallen asleep and begun to dream." Yet the choices made for the various 'events' that comprise the show appear as well-worn works from the past. Yes, the set of white cardboard boxes is used well. The dancers climb in and out of them, carry them and use them as background for projections, but alas, those events are the most intriguing. There is one excellent dance duet by Stephen Buescher and James Graham: all other movement material is fragmented and accompanied by talk, projections, video and other mechanical material that is hardly innovative. Although there was much laughter in the audience, a friend said simply, "I am not amused." Members of the cast and creative team (beside Buescher and Graham) include Sheldon Smith, Lisa Wymore, and Rami Margron.
"Disappearing Acts" Smith/Wymore

Scot Wells is a master of contact improvisation. He and Kathleen Hermesdorf came to SF in 1991 and into Danceground Keriac in 1992. The opening work bring them together with Virginal Broyles and Sebastian Grubb (two excellent performers) to reconstruct the material they do so well. Initially we see a video of their early work, but thankfully real bodies perform. (Human performances as three-dimensional activity always has greater impact than video.) Their skill is delightful. At one point, Broyeles and Grubb comment, wondering if they will move so well in the fifteen years that separate them from the older performers. The skill is different but not diminished. Here too the dancers talk, rest, sprawl and get silly sometimes, but the integrity of the performance is always maintained. The of several long tape measures used by the dancers provide sound, serve as props and help to define stage dimensions. Skills design and style are fused.
"Ballistic 2" is dance, a circus, a playground, an event and a celebration. The dancers, besides Broyles and Grubb, are Zack Bernstein, Kyle Her, Aaron Jessup, Megon Lowe, David Weichenberger and Shira Yaziv. All are skilled in contact but also in juggling, throwing and catching balls of all sizes and colors and maintaining marvelous rapport with one another. Accompanied by mad music "Muzsikas" and Lemon Jelly, the dancers handle all the physical activity simply, smoothly and with superb skill.
For this reviewer, the joy in the piece is not only the endless skills demonstrated but most pleasing of all, the way Wells has choreographed. Thematic material is repeated so that we the audience can actually see the material unfolding. The rhythms change but are repeated so we are satisfied with dynamic phases. The space is shaped and reshaped so the viewer can retain events. "Ballistic 2" is an satisfying and joyful event.
Lighting design credit goes to Harry Rubeck. Scott Wells and Dancers will repeat the program at Dance Mission Theater the weekend of Dec. 8 & 9. GO!
Ballistic 2: Scott Wells and Dancers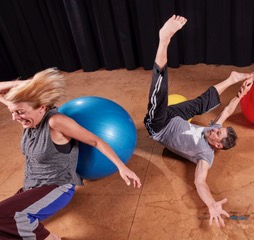 Joanna G. Harris