Company Wang Ramirez "Borderline"
Cal Performances Zellerbach Hall
Sunday February 25, 2018
"Soaring"
"Borderline" is an international enterprise with support from institutes and theaters in France and Germany. Honji Wang, dancer, choreographer and artistic director, was born and raised in Germany by Korean parents. Her training includes hip-hop dance, martial arts and ballet. Her partner, Sebastien Ramirez, dancer, choreographer and artistic director, comes from the south of France and "specializes in the use of aerial work as well as the development and use of choreographic rigging". These two, accompanied by performers Louis Becker, Johanna Faye, Said Lehlouh and assisted by Alister Mazzotti gave the "Radical" audience a startling new look at a new dimension of multi-disciplinary dance.
The rigging is unique. A large cage like structure first attracts and then repels two dancers who swing, balance, elude and mount the structure. The action becomes an attract-repulse statement; the cage, manned by their rigger, is alive to their responses.
The company's style is based in hip-hop, but several forms of dance and flying actives are employed. The five dancers and an aerial rigger, who performs with them, keeps us aware of his active role. He can give the dancers freedom from gravity; he keeps them safe. But he also restrains and restricts them. In the beginning, two women in harnesses, led to separate lines, struggle and surge toward an open steel construction. Every image of safety or freedom is complemented with one of danger or confinement.
The rigging allows not only flight but dramatic effects at stage level. This reaches a breathtaking finale with Wang and Ramirez in a tender duet, with Wang sometimes  pulled rapidly back across the stage, in a wonderful white dress. She whirls in large and small arcs and, held in one hand by Ramirez, seems to float alongside him.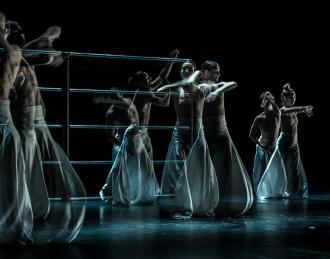 Company Ramirez offers a unique introduction to their skills. They are all fine dancers. "Borderline," a performance combining multiple skills, gave Berkeley audiences a taste of a new international, inter-discipline experience.The rigging allows not only flight but dramatic effects at stage level. This reaches a breathtaking finale with
Joanna G. Harris