Eva Yerbabuena Company
Cal Performances: Zellerbach Hall UC Berkeley
March7, 2018 8 PM
Ay!
Eva Yerbabuena is a one woman powerhouse dancer. She brings to Flamenco a dramatic skill not usual in the folk tradition of Flamenco, at least not usually seen in Bay Area Flamenco. She divides the program into seven parts, all of them solos, except for one section (I guess Nana and Coffee) where she interacts with the singers. That section, for me, was the most pleasant. Yerbabuena must be admired for her dramatic ability, but for me, it grew melodramatic, overly repetitious and emotionally wearing.
Except for two sections when she dons shawls and flings them about, her costuming is always black. Her singers, guitarist, percussionist and violinist are dressed in black also. The stage is lit with various diagonal down spots that barely illuminate the spaces.
For one number she uses a lopsided chair, which could be a torture rack. For another, she spreads herself on a table which ultimately falls apart. It is all very effective but tends to be performed at the same level of muscular intensity and with repetitious gestures.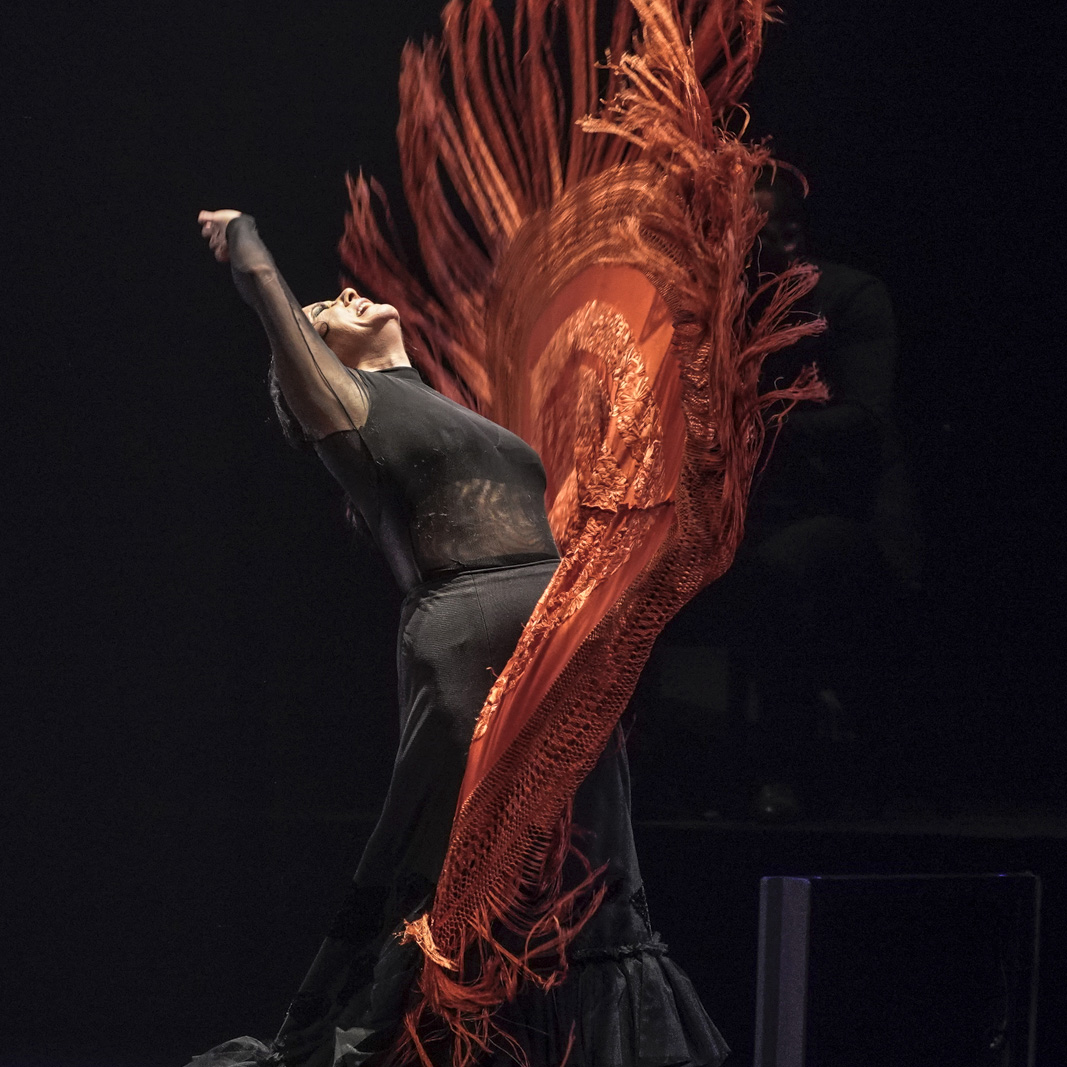 Yerbabuena begins in the dark walking on crossed diagonal lines, each walk quickly blacked out. Her arm gestures are huge, although she is a small woman, she projects enormous range. Her movements tend to be symmetrical: first one side, then its echo on the other. On the chair, she sits, lies and spreads herself out, legs wide apart. Each section ends, usually, with arms outstretched to the heights. Such gestures call for wide applause.
To this reviewer, she is best when she hauls up her skirts and displays the wonderful foot work so famous to Flamenco. We then accept and enjoy her dance mastery.
The vocals for this program were provided by José Valencia, Enrique Exstremeno and Alfredo Tejada. They are all brilliant is tone and rhythm, although the electronic amplification tends to produce the same pitches. Paco Jarana on the guitar, Antonia Coronel, percussion and Vladimir Dmitrienco, violin, provided fine musical accompaniment.
It was an usual and important dance experience to see this performer who credits both Pina Bausch and Carolyn Carlson for help in the development of her work. It is extraordinary work at the Martha Graham level of emotional projection. A more varied and less dramatic intensity within the program would make it a more enjoyable event.
Joanna G. Harris
photo: Eva Yerbabuena
Courtesy of Cal Performances