"Luna Mexicana" Oakland Ballet Company
November 3, 2017 Paramount Theater, Oakland, CA
Ballet "Folklorico"
Graham Lustig, Artistic Director of the Oakland Ballet, has developed an enthusiastic audience with his production of "Luna Mexicana." To supplement his own ballet entitled "Luna Mexicana," he has invited various local groups to celebrate "Dia de los Muertos," the Day of the Dead. Included in the program was "Nahui-Ehekatil" a blessing ceremony dedicated to Mother Earth, Ballet Folklorico Mexico Danza, and the Mariachi Mexicanismo, an instrumental and singing group. There was one outstanding dance event: Ramona Kelley danced José Limon's "Chaconne," expertly played by violinist Terrie Baune.
The Blessing Ceremony was truly evocative of ritual, dancers and drummers dressed in gorgeous costumes and honored the four elements that gives us life. It would have been even more satisfactory had the blessing words been heard over the lively drumbeats and chants.
Ballet Folklorico celebrated Amalia Hernandez's 100th Birthday with the Revolution suite, remembering the men, women and children who fought in 1910 for freedom and equality. With nine parts of the story, we witnessed lovers, devils, a death figure and all those who participated "in the eternal dance of life." It was a lively event, truly a celebration.
Lustig's "Luna Mexicana" is a ceremony that summons the dead to celebrate with the living. Ramona Kelley again portrayed Luna, who, in a worship ceremony, recalls the dead ancestors. They appear as skeletons and other eerie forms, dancing a bride and groom duet, a deer solo, a quintet and the famous "Hat Dance." It is a beautifully executed event, although a bit overshadowed by all that came before.
The "Chaconne" deserves special mention. Kelley has mastered the gestures that the Mexican dancer Limon styled for this Bach piece. Her hands as they encircled her head, her stretched legs, her fall and rise from the floor, captured his style and the elegance of the dance. Alas, in the midst of all the costuming and celebration, her simple black figure, though brilliant, almost disappeared in the range of lively costumed evening's events.
For this reviewer the Mariachi Mexicanisimo group could have cut its program by half. The material presented was more appropriate for a night club event, not an evening of dance/theater. Each number was a treat, but there were too many and it was too much.
Congratulation to Lustig, all the dancers and groups and guests for an enthusiastic celebration.
Joanna G. Harris
Luna Mexicana: Photo credit: Steven Texiers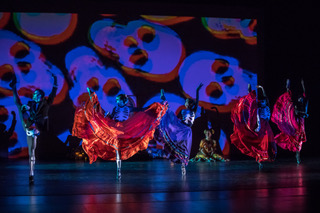 Ramona Kelley, dancer: Terri Baune, violin