Cutting Ball Theater, San Francisco
"Timon of Athens" by William Shakespeare
Directed by Rob Melrose
April 6-29,2018
Morality for our time
Melrose suggests in his program note, that with Timon, "we expire the collision of the wealth of the tech world and the poverty we see on the streets every day in the Tenderloin." Shakespeare critics throughout the ages have found the play, though lacking in cohesion, still, of continuing interest. It is a work rarely performed, though.
I recommend a youtube visit to National Theatre Live, Simon Russel Beale, actor, visit to the British Museum and the trailer. That production, also set in contemporary times, has the great advantage of the National Theatre's resources, but most important, the profound training that English Shakespearean actors have in the delivery of their lines.
The actors of Cutting Ball's production do very well, but there are many, many lines. Even in the small theater's space, some lines do not carry, nor do the clarity of words and their necessary enunciation. These skills take time. There is also, for this reviewer, a background sound score which does not add, but detracts from the general coherence. Nevertheless, Brennen Pickman-Thoon, as Timon, Courtney Walsh, as his servant Flavius, David Sinaiko as Apemantus and others, and Ed Berkeley, Alcibiades as others, bring to the play its great dramatic impact.
English historical drama boasts a period in the fifteenth and sixteenths century when "morality" plays were produced, " plays about the human predicament," "what it means to be human," often represented on stage by a single dramatic figure. Such is the essence of Timon. As the historical critic states, "Man exists, therefore he falls, nevertheless he is saved." Shakespeare, the ultimate poet/playwright, works this material to portray an overgenerous, proud man, betrayed and humiliated, who subsequently rejects the world. How and if he is saved will depend on your judgement. Ultimately he is true to himself, rejecting others.
The Cutting Ball production is set on three sides of an ingenious set by Michael Locher which serves as meeting place, banquet hall and Timon's ultimate solitary retreat. This, and the free use of other house spaces makes for a lively 'theater in the round." There are both men and women actors, so except for Timon and Flavius, one must keep track of all the 'others' who fill parts as senators, guests, servants and dancing girls.
The production lasts over two hours, with one intermission, but the generous courtesy of the lobby hostesses will help you with refreshments in the break. Read it! Listen carefully. Think how it applies to our times and Enjoy!
Timon (Brennan Pickman-Thoon, center) laments the power of gold to corrupt all things while Phynia (Radhika Rao, left) and Timandra (María Ascensión Leigh) look on. Photo by Rob Melrose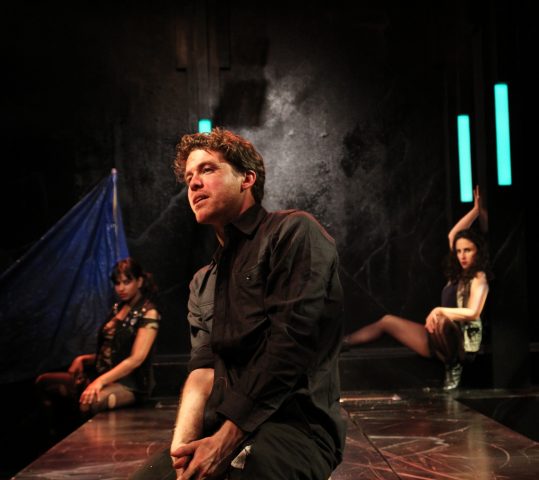 Timon (Brennan Pickman-Thoon) gives a toast at one of his wild parties. Photo by Liz Olson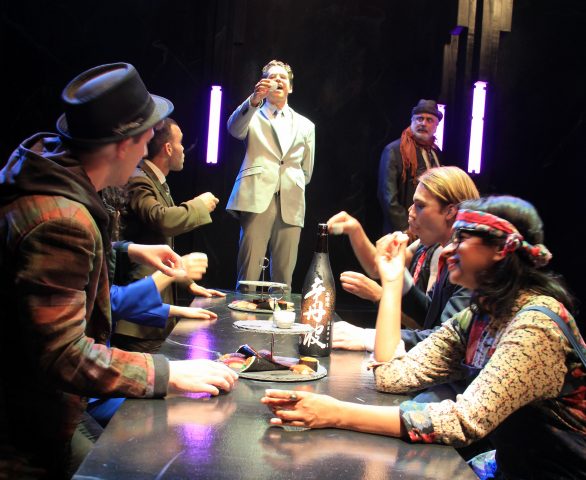 Joanna G. Harris