SF Ballet Unbound D
April 26, 2018
SF Opera House
Multiple Choices
SF Ballet has completed the "Unbound" series. Twelve "new" choreographers have presented their works. The series will officially end on May 5, so there is time to see some of these events in the week ahead. All in all there was spectacular dancing, some gorgeous sets and lighting, two or three choreographic achievements and a lot of acrobatic exhibition of the 'inner thigh' through multiple extraordinary lifts. Lamenting of days of yore in the ballet, a colleague remarked, "Where are those exquisite 'pas de deux' we used to see.
Unbound D brought three works, all dealing with human frailty in various terms. "The Infinite Ocean, " a work by choreographer Edward Liang to music by Oliver Davis, seemed to be preoccupied by thoughts concerning life after death (at least his program note declared that was so). In the background was the projection of a huge sun (the same image was used for the eclipse in McIntyre's "Your Flesh Shall be a Great Poem").
The back of the stage was a ramp over which the dancers ran and disappeared. Various duets demonstrate attitudes described as "soulmates," "choppy relationships," even "pure essence." Although Liang used wonderful arm and torso movements, each of these duets, to this reviewer, was not differentiated sufficiently to communicate the varied intentions and attitudes. There were distinguished duets for Sofiane Sylve with Tiit Helmets, and with Yuan Yuan Tan and Victor Luiz. Beautiful technique and yet, somehow, neither the music nor the choreography made Liang's themes clear.
"Let's Begin at the End, " a work by Dwight Rhoden to music by Bach, Glass and Nyman, suffered from similar problems. This time the background was a set of doors through which the dancers came and went. One dancer was usually left out. Rhoden tells us his intent was "love and connection, misconnection, discord and harmony." Those are complex themes to illustrate especially when the vocabulary is not clearly differentiated in execution, in dynamics, in spacial organization and in rhythms. Frances Chung, Angelo Greco, Sasha De Sola, Benjamin Freemantle, Jennifer Stahl and Ulrick Birkkjaer were the duets against which Esteban Hernandez contrasted isolation. Although the changes of music were intended to make it clear, they did not. David Briskin conducted; Mariya Borozina was the violinist; Natal'ya Feyginea, the pianist.
Arthur Pita's "Bjork Ballet" amused and delighted the enthusiastic Unbound audience. Set to songs by the Icelandic singer and composer, Pita built the work like a circus act. There is a fisherman with two masks; a pixie on a portable platform; a "rave" jumping sequence that echoes Bjork's song. Pita's note says, "its about love or joy, sex or death." All the material is delightful, but there's almost too much to capture. Dancers Dores André, Maria Kochetkova, (who will be missed) Sarah Van Patten, Ulrik Birkkjaer, Luke Ingham and Wei Wang do their best, as do all the corps members. But an audience can only absorb so much material especially, in this case, when the stage is often too dark to see all the innuendos in the choreography.
The Unbound series has been a great celebration of skills from all dimensions of the SF Ballet, the dancers, choreographers, musicians (who learned many new scores), the conductors, designers, publicists and sponsors, Congratulations are due to all for this accomplishment. Of all the works, however, this reviewer looks forward to seeing three in next year's program: Cathy Marston's "Snowblind" for drama; David Dawson's "Anima Animus" for dynamic dancing and Christopher Wheeldon's "Bound to" for humor. All the works deserve applause, but those three are most memorable.
Joanna G. Harris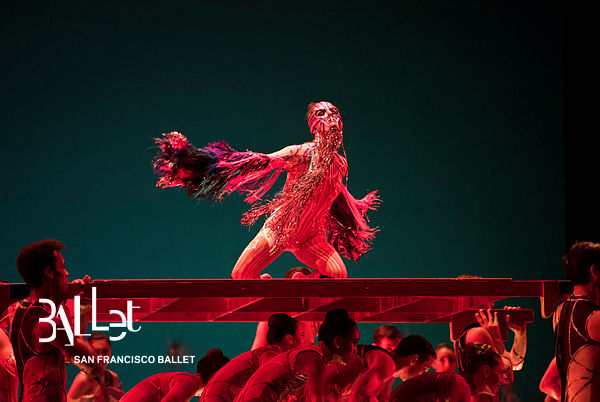 | | |
| --- | --- |
| Maria Kochetkova in Pita's Björk Ballet. (© Erik Tomasson) | |
| | |