"Scene and Heard"
Laney College, Oakland
May 31-June 2, 2018
Moving Right Along: Story Time
It is a pleasure to experience the innovative programming created by Graham Lustig, Artistic Director of the Oakland Ballet. In each of the recent seasons he has produced works that are innovative and inventive, reaching the community with new artists and meaningful works.
For this spring concert, he has introduced new choreographers, many of them local, as well as works by members of the dancing company, Ramona Kelley and Vincent Chavez. Newly commissioned works are by Bat Abbit, Antoine Hunter, Michael Lowe (former member of Oakland Ballet), and Danielle Rowe.This perspective on new work brings freshness and delight to audiences and challenges to the company.
The program began with a 'family' drama, "Itchy Bot Bot" choreographed by Danielle Rowe. A family of four is introduced at the moment of their son's graduation. A daughter is barely recognized in the proceedings. Through the course of the ballet, she steals the show. The dancing here, and in all the works is skilled, well projected and delightful.
"Kimono Wednesdays" by Michael Lowe (now director of the Menlowe Ballet) is charming, but a bit confusing. The idea for the work is based on a painting by Claude Monet of his wife, Camille Monet in a Japanese costume. The exhibit of the work caused commotion: is this the proper way to demonstrate "Orientalism"? Lowe casts the dancers as various aspects of the painting: agitators, the curator and various spirits. The work needs a bit more binding together to become clear.
Antoine Hunter is deaf. He has produced the Bay Area International Deaf Dance Festival since 2013. His work for this program, "Giggling Flame and Roaring Waves," aims to 'connect others' through the gesture and dance. Coral Martin gave us the opening score of gestures. The company did the rest with great energy and delight.
Marriage and its mishaps makes for great narrative. Vincent Chavez and Ramona Kelley take on "La Llorona" a sad tale of a deserted wife whose grief lead to the death of her daughters. "The Sound of Snow" recounts the story from Edith Wharton's novel, "Ethan Fromm," (another version seen recently in SF Ballet's "Unbound.") Bat Abbit's version is clear and simple and well projected. Christopher Dunn deserves special note for his nuanced portrayal as Fromm: Samantha Bell as the wife and Ramona Kelley as his 'cousin' were effectively danced.
A new 'pop' work by Lustig was the finale. To musical selections most of us can remember (e.g. "All Shook Up"), the entire cast joined in a series of flirtations called "Heartbreak House." The company, a group of well trained ballet dancers, nevertheless entertained us with this jively, jazzy work. Congratulations to them all, choreographers, dances, designers for bringing to Oakland its own very talented artists.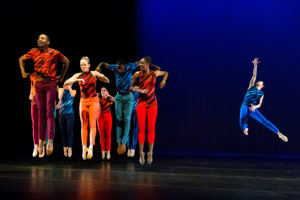 Sharon Kung and company
Members in Antoine Hunter's"
"Giggling Flame and Roaring Waves"
Joanna G. Harris