"Pepperland"
Mark Morris Dance Group
Zellerbach Auditorium, UC Berkeley
September 28-30, 2018
Music like we ain't never heard! Dance, OK!
Ethan Iverson, the musical director for the Mark Morris Dance Group has done an ingenious job of translating, transforming and re-presenting "Sgt.Pepper's Lonely Hearts Club Band." His notes on the 'take' of the older music is given a written exposition in the Cal Performance program. Among the other details, he has taken the regular rhythms of "When I'm Sixty Four," putting a '5' rhythm between the 6 and the 4.The dancers use all the counts, so the piece becomes chorus line mayhem. Delightful!
Iverson's music group consists of outstanding instrumentalists and singers. They are Clinton Curtis, vocals; Sam Newsome, soprano saxophone; Jacob Garchik, trombone; Rob Schwimmer, theremin; Iverson, piano; Colin Fowler, harpsichord/organ; Vincent Sperrazza, percussion. This ain't the lonely hearts band expected; this is great music!
Morris is a master choreographer of steps, phrases and jokes. With the twelve musical numbers he chose, he has given the masterful, technically skilled, charming group a variety of musical hall dance, nightclub dance, bits of ballet and modern dance and a general 'good show' event. Men dance together, as do women. There are lifts and flops, costume changes, character impersonations and spectacular solos (particularly some by Lesley Garrison). Each and every member of the 15 dancers have the opportunity to 'pull down the house'… and they each do.
The chorus line number, "When I'm Sixty Four" seemed to appeal to the audience most. Probably many of them are that age…and older. The mixed rhythms executed so deftly as the company performed the "Rockettes-like" number, brought laughter of recognition of both the melody and the movement reference. All of the twelve selections were lively and danced with the skill so well known to this company.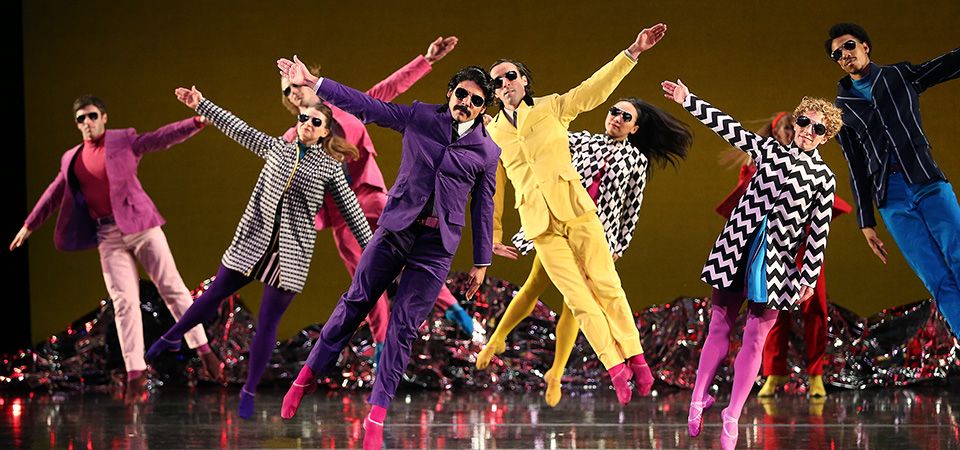 Mica Bernas, Sam Back, Durellr. Comedy, Brandon Corny, Domingo Estrada, Jr., Lesley Grarrsin, Bauren Grant, Sarah Haarmann, Laurel Lynch, Dallas McMjjuray, Brandon Randolph, Nicole Sabella, Christina Sahaida, Billy Smith, Noah Vinson. BRAVO ALL!
Special mention goes to Elizabeth Kurtzman, whose costume designs in brilliant costumes recalling the styles of fifty years ago, bring delight and charm to the dances.
Joanna G. Harris