Oakland Ballet "Dia de los Muertos"
Paramount Theater, Oakland
Nov. 2, 3 2018
oaklandballet.org Community Celebration
The Oakland Ballet, under the leadership of Graham Lustig, really knows how to celebrate with its community. This year, the "Dia de los Muertos" program brought several groups to add to the festivities. First: the "Blessing Ceremony" danced by Nahul Ehekati and Co. brought scenic and costume wonder to the stage as the group of feathered dancers and drummers asked "Permission to Dance" from the ancestors. Then, the "Ballet Folklorica Mexico Danza", citing Chichimeca Mexican territory as their homeland, performed some polkas and schottisches that were brought there by European immigrants.
Lustig's "Luna Mexicana," last year's production, established the ceremony of "the day of the dead." With Jasmine Quezada in the leading role as the mourner, the stage filled with skeletons and ancestors, images that delighted the audience with amazing costumes and movement. Particularly applauded was the "bride and groom duet" done by Samantha Bell and Landes Dixon. Of course, the "hat dance" was the favorite. The house hooted, clapped and was thoroughly involved with the memorable event which marks the Halloween holiday.
The life of Mexican painter Frida Kahlo has inspired Oakland Ballet, in collaboration with Ballet Folklorico's Martin Romero, to produce a new ballet "Viva la Vida!" The work unfolds in several episodes, some depict her paintings of beloved animals, some, her life with Diego Rivera, and her commitment to left wing revolutionary politics. The Rivera incident involves a series of duets, one with Frida (Nina Pearlman) and others with the several women who were his lovers. Alberto Angulano danced Rivera. A tango, choreographed by Romero held unusual charm. It appeared to be danced by two men, but that, of course, was not clear. The full company joined the "Uprising" event: Walt Whitman was quoted; the Mexican flag flew…and the International was sung. What a finale for these political times. "Viva la Vida!" Is an outstanding celebration! Bravo!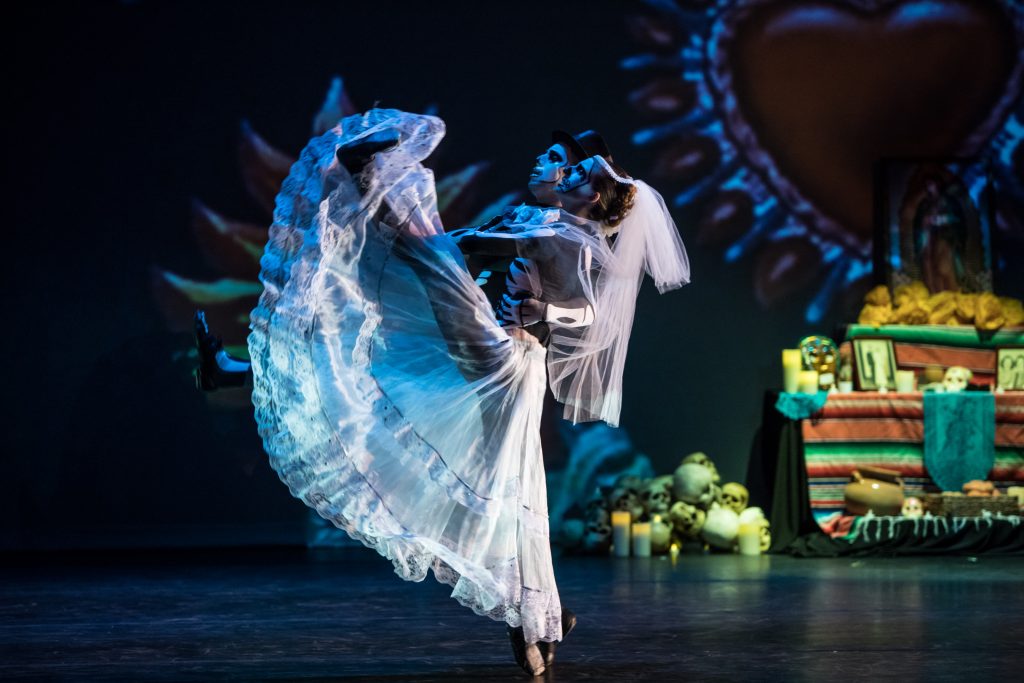 Emily Kerr as the Bride and Richard Link as the Groom in Oakland Ballet's Day of the Dead celebration, "Luna Mexicana."
Photo: Steven Texeira
Joanna G. Harris