"17c" Big Dance Theater
Cal Performances. UC Berkeley.
December 13-16, 2018
Zellerbach Playhouse
Pepys' Show
My acute academic neighbor remarked, at the end of "17c" that Pina Bausch had brought a new definition to 'dance-theater,' but it was yet unrealized in many productions. Alistair Macauley, in the December 15 issue of the NY Times, notes that the British troupe "Gandini Juggling" also uses dance-theater elements. Although Anne-B Parson's "17c" "a feminist re-examination of the life of Samuel Pepys" claims to be "Big Dance Theater," it fails to create dynamic action and lively narrative.
Parson seems fascinated by diaries as she tells us in an unsavory pre-production narrative, and while Pepys diaries are famous literature, this production does not animate them. Events and incidents are disconnected and sporadic. No amount of technical devices, moving sets, declarative statements nor incidental movement is effective. Somehow both story telling and animation are disjointed.
The center mishap is the desultory narrative delivered by Paul Lazar as Pepys. He sits in an easy chair, center stage, and goes on and on about the love affair with the household maid, citing the date of each meeting. The affair is dull as is the recitation.
Pepys may be known for many of his egotistic infatuations; this one is not interesting. Fidelity in marriage was hardly the normal state of affairs as recorded in the 17th century. Although Parson attempts to this with Pepys contemporary, in comments by feminist Margaret Cavendish, the contrast is not effective since it too dissolves into desultory conversation.
An opportunity to show the skill of dancer/actress Elizabeth deMent was sorely missed in the story of Bess, Pepys' wife, and her infatuation with her dancing master. The dance forms of the 17th century were widely cultivated so that great balls could imitate those of the French court. Yet, deMent, for all her good skill as a dancer, get no opportunity to show those skills. She moves beautifully but the choreography is ineffective.
Although meant to "dismantle this unchallenged historical figure, and embody the women's voices omitted from Pepys' intimate portrait of his life," (program note), this production seems not to have the impact that dance theater demands. Perhaps the technical requirements (use of mike on long wires, clumsy movement of set pieces) became too challenging in the Zellerbach Playhouse. "17c" was a considered effort, but to this reviewer, and to much of the audience who seemed to withdraw into silence, it was not effective. The performers were:
Elizabeth DeMent – Annotator/Bess (wife of Samuel Pepys): Kourtney Rutherford – Annotator and Margaret Cavendish: Mikéah Earnest Jennings – Samuel Pepys:  Cynthia Hopkins – Samuel Pepys: Paul Lazar – Samuel Pepys. Co-directed by Paul Lazar.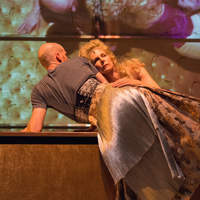 Pictured: Aaron Mattocks and Elizabeth DeMent.
(credit: Johanna Austin)
Joanna G. Harris