Eifman Ballet of Saint Petersburg
"The Pygmalion Effect"
Cal Performances
May 31, June 1 & 2, 2019
Zellerbach Hall UC Berkeley
Eifman's Broadway Ballet
You don't need to catch the latest musical on Broadway and you can cancel that trip to Las Vegas! The Eifeman Ballet, at Zellerbach Hall has it all. There is a slum crowd of 'boys and girls' worthy of "West Side Story", ballroom dancing that beats "So you think you can dance", any "Fred and Ginger" act and stunts and tumbling galore. This is Eifman's treatment of the Pygmalion story beyond the myth and George Bernard Shaw.
There is even an 'messenger from heaven" a "coach" to offer promise and consolation.
On the evening of the opening performance, May 31, Lyubov Andreyeva took the part of Gala, the Liza Doolitle of Shaw's play. Instead of language learning, Gala is transformed into a ballroom dancer by Leon, a superstar of ballroom dancing. Andreyeva is superb in her ability to perform the dance-acrobatics Eiffman requires, but it is her ability to bring a range of character to that dancing that is remarkable. That is also so, to some extent, for Dmitry Fisher, who plays Gala's father, Holmes, characterized as a drunkard and a favorite of the mob. The "messenger from heaven", (that I believe is nowhere in the myth nor the play), encourages Holmes to reform.
Through a long series of group numbers displaying endless dance acrobatics, exaggerated leg extensions, countless lifts and falls, Gala is eventually transformed into a worthy dance partner for Leon, but not without the help of some 'magic gadget", headgear which makes Gala a mechanical dancing doll. The "coach" helps Gala to achieve recognition, but Leon (like Dr. Dolittle) cannot accept her. On a lonely bench to Piano Concerto No. 23 by Mozart, Gala is consoled by the message from heaven. All the rest of the (recorded) musical accompaniment has been by Strauss and son. The Mozart moment is the only lyrical interlude in the ballet.
There is also some extensive dance talent in the other principals, Oleg Gabyshev as Leon, Alina Petrovskaya as Tia (Leon's dance partner) and the Coach, Igor Subbotin.
But unlike Andreyeva and Fisher their characters are monochromatic and flat. This work, as so many other of Eifman's works, appeals to what is exaggerated and at he limits of show-biz exaggeration. As ballet dancers, the group are more acrobatic than expressive. The choreography is always "on the beat" and it is relentless.
There is a time and place for this kind of presentation since the audience whooped with delight.This reviewer would rather have that ticket to Broadway or honest Las Vegas.
Joanna G. Harris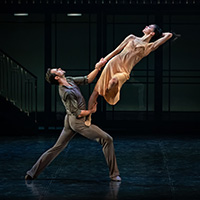 Photo: Oleg Gabyshev and Lyubov Andreyeva
In "The Pygmalion Effect"
(photo curtesy of the Eifman Ballet)