Hope Mohr Bridge Project
Signals from the West
Saturday, November 9, 2019
ODC Theater, SF
Collaboration/Invention/Reconstruction
In August, 2019, two former members of the Merce Cunningham Dance Company, Silas Riener and Rashaun Mitchell taught a group of artists the technique, choreographic methodology and points of view that characterized Merce's work.
Now, three months later, the ten artists chosen to complete the project, have presented their work. The aim of the project, as quoted in the program was…
"…to create a space for contemporary cultural exchange between individuals with fantastically different bodies of knowledge; to make room for debate and communication across disciplines, generations and geographies."
For the most part, the program succeeded. After a respectful prayer to the Ohlone People, the performing events included sound, movement, many video projections and excerpts from the Cunningham Repertory as staged by Riener and Mitchell. As an old Cunningham student, teacher and long time observer of his works, I appreciated the pure dance excerpts most. Merce introduced 'mixed-media' late in his career. Today's artists seem devoted to that discipline.
'Underwater Moonlight' (days of blood & milk) by Sofia Cordova, written, performed and recorded in collaboration with Matt Gonzalez Kirkland, was a "restricted by the limitations of postpartum life." Four dancers were recorded, moving slowly, amid a variety of available sounds of mundane objects. Cordova notes she sees this work as "a disjointed conversation with Richard Moore and Merce Cunningham's 1968 film Assemblage." It takes some concentration to attend to all these elements in the work.
Other works on the program required similar attention and appreciation of 'mixed-media' material. "Work in Place" by Sophia Wang is choreographed and danced by her and Brontez Purnell. Her note says, "so we tested routes for both capture and escape."
The repetition of their entrances and exits made for attentiveness and clarity and some humor! The score and titles were provided by Kim West.
Other events included "Stop Play: Quincunx" by writer/director Maxe Crandall, performed by Karla Quintero, Danny Thanh Nguyen, Julie Moon and Maxe Crandall. The event was described as 'soap opera." Julie Moon added "Quincunx", noting "I shed the story, the ego sheds me," and adding an image the programs for scanning.
Christy Funsch appeared on the TV screen reciting the name of 100 people from her career while dancer Nol Simonse moves "shards of material from his 19 years of collaborative partnership with Funsch". Nol is a superb dancer, clear and skilled in his execution of material, whether it be full-out dance moves or dramatic incidents.
Additional events were "Tejidos/Weavings", a "structured improvisation for ensemble" and. "Paris" a well executed solo by Alex Escalente. The program was completed both at the end and before intermission by excerpts from Cunningham works, danced by Sarah Cecilia Bukowski, Traci Finch, Emily Hansel and Stacy Yuen as staged by Mitchell and Riener. No matter what experimentation, innovation and collaboration was attempted and realized, for this reviewer, watching Cunningham's work was the reward.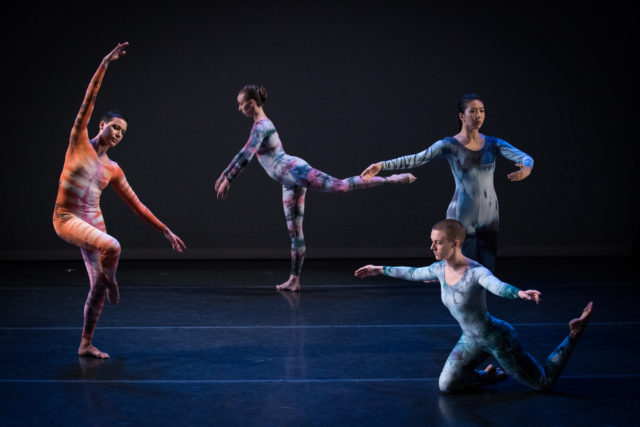 Sarah Cecilia Bukowski, Traci Finch, Emily Hansel and Stacy Yuen
Excerpts from Cunningham repertory, staged by Silas Riener and Rashaun Mitchell.